Music
Albums
The Simply 8 EP
Barely Breaking
Live It Now
On My Own
Tides
Time of the Year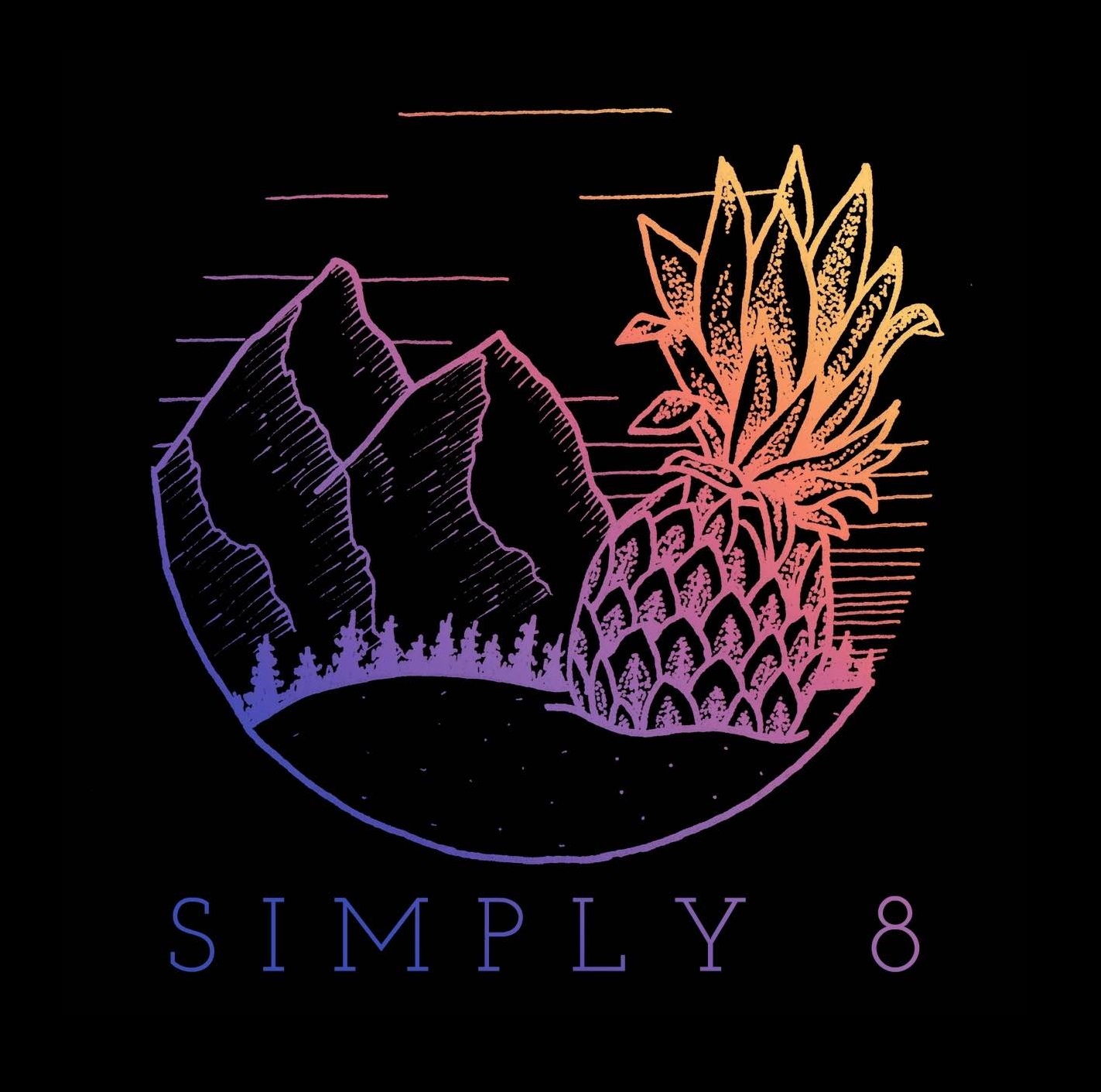 Thanks to Briar Anderson for designing the artwork that went on the Simply 8 EP!
The Simply 8 EP has recently been released! It is available as a digital release on a wide variety of platforms including iTunes, Google Play, Spotify, Amazon Music, and more. You can also get it as a physical CD in a hard jewel cases with lots of cool album art. Listen to it below, or head over to
our store page
to find more information about where to buy it!
Song Lyrics
Barely Breaking
I never though it would be quite this simple but I always seem to follow down this road to you, straight to you

I watch the scenes outside go by, I'm holding on too long I'm stuck on you, I'm stuck on you

Hold on I'm dying baby
You really drive me crazy
Can't breathe I'm suffocating
Hold on um barely breaking

Hold on wait I'm feeling something different now
Don't apologize to me
Thief in the night you took my hand in my heart and now I'm never gonna sleep in peace
Thinking wondering if things'll change now
It's too late I guess we'll see
I'm taking it back, all on my own
Open the doors I've got the key

Thinking back over the times together
You never seemed to care about just you and me, you and me

You left me there all alone, and now I realize the things I truly need, oh I need

Hold on I'm dying baby
You really drive me crazy
Can't breathe I'm suffocating
Hold on um barely breaking

Hold on wait I'm feeling something different now
Don't apologize to me
Thief in the night you took my hand in my heart and now I'm never gonna sleep in peace
Thinking wondering if things'll change now
It's too late I guess we'll see
I'm taking it back, all on my own
Open the doors I've got the key
On My Own
Being alone in this world of hate
Forces me to appreciate
The little things that keep the world Spinning inside my mind

The sun the moon the stars above
whisper at night thoughts of love
They keep me awake throughout the pain
of being a stranger to the lies and games

Even though I'm all alone there's something better later on

I don't want to be, something someone else wants me to see
The colors of stars that fill my eyes, see something greater than my own demise

I don't want to speak, the words that fill the inside of another's cheek
Even though the road is rough and I'm all alone, I know that I can stay strong and make it on my own

The obstacles that plague my path
Will lead me to an aftermath
That's better than any pain or grief inside this earthly woe

The fear of being tossed out on the street at night
opens up my wounded sight
And shows me the truth of life and death
When I think I'm taking my last breath

Even though I'm all alone there's something better later on

I don't want to be, something someone else wants me to see
The colors of stars that fill my eyes, see something greater than my own demise

I don't want to speak, the words that fill the inside of another's cheek
Even though the road is rough and I'm all alone,
I know that I can stay strong and make it on my own
Tides
Sunset looking early night
Our souls on board this upward flight
Sitting here with you makes this whole world seem alright

Clouds are burning all away
Barely holding on to day
I see that bright ol' smile on you and you look at me and say

Don't you fret my little child
We can talk, and rest a while
Just listen here, listen right here
There's someone watching over us
Even if you don't believe me trust
The mission is clear, ever so clear

Walking away from Mission Beach
I went on my own to slowly reach
Those who needed help they could not find

Your words were with me in my mind
The short while ago there when you signed
The lesson of hope on my heart with a pen

(Chorus)

Now I'm all grown up and old
But the stories that you always told
Stuck with me through thick and thin all

I'll never forget the way you faced
All the problems that filled up the space
Now and then I go back that special place

(Chorus)
Live it Now
(Verse 1)
Summer nights are never grey
Chilling by the fireplace
You got my heartbeat in your hand
Buried it underneath the sand

These things you make me feel inside
I have no words to describe
Bottled it up and kept the change
Instead of that I learned to say

(Chorus)
La da da da da da da
La da da da da
My tongues tied up I can't deny
You just make me feel alive

La da da da da da da
La da da da da da
Come take my hand and figure out
This life won't last let's live it now

(Verse 2)
Looking up the sky at night
The constellations shown so bright
Laying on a Pick-up truck
This happiness can not be luck

Still can't seem to put in words
This thrilling life that I observe
Instead of using anything
I'll use my voice, get up and sing

(Bridge)
This life won't last with you being so blue
Go by and by and on and on 'till there's nothing more to do

Time of the Year
My life's in chains this is not how it should be
There's got to be an answer out there waiting for me

Thoughts spinning in my head I've got to find out where I should be
Now it's time to put one and two, one and two into three

(Chorus)
It's my time, it's my chance, it's my way to get out
There's nothing left in this life 'cept this path I'm going down
I am free, I am far, like a distant shooting star
Everything is going just right for me

Bought a used guitar and a credit card
Got a day job saving real hard
Getting rid of what I don't need in my front yard

I'm going all right, I'm doing fine, I told ya babe it's my time
Living check to check and week to week

(Chorus 2x)